Quilling Halloween! Quilling Halloween!
♥ Marissa is on extended maternity leave. ♥
She looks forward to working with you to create beautiful things upon her return!
Please email SweetheartsandCrafts@gmail.com with any inquiries.
Please note we will not be taking holiday orders for 2020. Thank you for your understanding.
Image: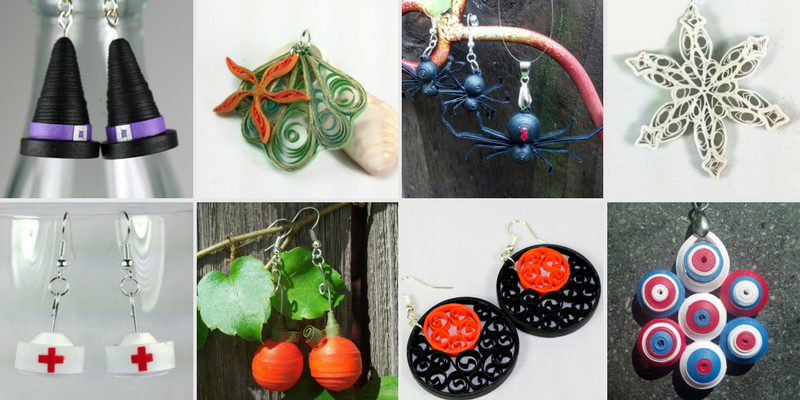 For many costume party goers and trick-or-treaters alike, Halloween is THE time of year to really stand out in a crowd. While the perfect spooky makeup or elaborate clothing will convey the essence of your ensemble, the way to really take your Halloween costume over the top is by having the right accessories and jewelry pieces. Supergirl needs her cape. Harry needs his wand. Take your look over the top with these unique pieces for Halloween.
Vampire or Spider Queen

You don't have to live in Transylvania to be a blood sucking beauty this Halloween. These pieces will compliment a Vampire Queen or Spider Queen costume with spooky perfection. The spiders come in a pendant and earrings set but can be sold separately if desired. The large black widow spider pendant dons a characteristically creepy red hourglass shape. The bat pendant would look fab as a choker length necklace atop a gothic vampiress neckline.

Wicked Witch or Hocus Pocus

The wicked witch will always be a simple costume to fall back on in a pinch when Halloween sneaks up on you. But that doesn't mean a witch costume has to be boring! Wear these whimsical witch hat earrings to embellish a simple witch costume. The Hocus Pocus Sanderson Sister Witches are big this year and these will make magical additions to Winnie, Mary, and Sarah.

Wonder Woman

Wonder Woman is arguably the most indelible icon of female power in American culture. Be proud to wear red, white, and blue as the amazing Amazonian woman. Many girls this year will be sporting the classic dress and headband but you can give your costume extra power with the addition of these patriotic pieces.

Pumpkin Queen

Another fabulous faithful costume we can rely on at Halloween is the classic pumpkin. These earrings will be an adorable accent whether you choose to go all out in orange from head to toe or just want to accent a warm pumpkin sweatshirt during trick-or-treating with the kids.

Mermaid

Ariel would be so proud that we all want to be a part of her world. Mermaids are a popular costume choice this year and it's ALL about the accessories. Anyone can find a seashell bra but you'll be the ruler of the ocean with the perfect mermaid accessories. These seashell pendants as well as the earrings come in your choice of colors to match your shiny tail (over 90 shades available).

Bunny (rabbit or Playboy)

Pay homage to the late HMH as a sexy bunny with these exquisitely crafted earrings; no other bunny will have these standout pieces! They are cute enough to accent a traditional bunny costume as well.

Frozen Princess or Ice Queen

Elsa and Anna haven't let go and are sure to be big costumes choices this Halloween. Add some gorgeously detailed snowflake jewelry to those store-bought outfits for a show-stopping costume.

Pirate

You'll have no need to search for treasure on the high seas if you adorn yourself with these sparkling beauties. Each of these pairs of earrings has gorgeous gold details, just like pirate's booty. When your costume is complete with the perfect jewels, no one will have to guess who is in charge of the ship.

Catwoman

Whether you're going for Julie Newmar, Michelle Pfeiffer, or Anne Hathaway these pieces will take your look to intoxiCATing heights. The pendant is super sleek and mysterious while the earrings are more cute and cuddly. The black cat pendant is available now. The cat earrings are not yet listed in my shop; you may click on the photograph to send me a message requesting the earrings.

Poison Ivy

This necklace is truly the perfect accessory for the most famous eco-terrorist in the world. The ivy is beautifully handcrafted and will surely emphasize the identity of the costume wearer. This piece can be made without the holly berries, if desired.

Cleopatra

A defining characteristic of the Queen of the Nile is her magnificent jewelry. Cleo is often portrayed wearing dramatic lines and geometric shapes in a variety of bright colors. These pieces are sure to compliment the beauty of the wearer and may even help you snag your Marc Antony.

Devil

There is no better night to dress as the Princess of Darkness. Adorn yourself with the flames of Hell to be the most evil looking temptress on All Hallow's Eve. These pieces are sure to put a "spark" in your night.

Nurse

Whether you're going for the popular "sexy nurse" with the little dress or more traditional in scrubs, these earrings will give your look the TLC deserving of a nurse costume. The dangles are available now. The studs are not yet listed in my shop; you may click on the photograph to send me a message requesting the post earrings.

Festive Halloween Lover

So you spent all your time on your little pumpkin's costume and forgot about yourself...you can still sport these amazingly festive filigree earrings in orange and black to show your Halloween spirit. Wear them all day or to trick-or-treat at night. Whatever your pleasure, have a super fun and safe Halloween!