Decorating with Paper Flowers
♥ Marissa is on extended maternity leave. ♥
She looks forward to working with you to create beautiful things upon her return!
Please email SweetheartsandCrafts@gmail.com with any inquiries.
Please note we will not be taking holiday orders for 2020. Thank you for your understanding.
Image: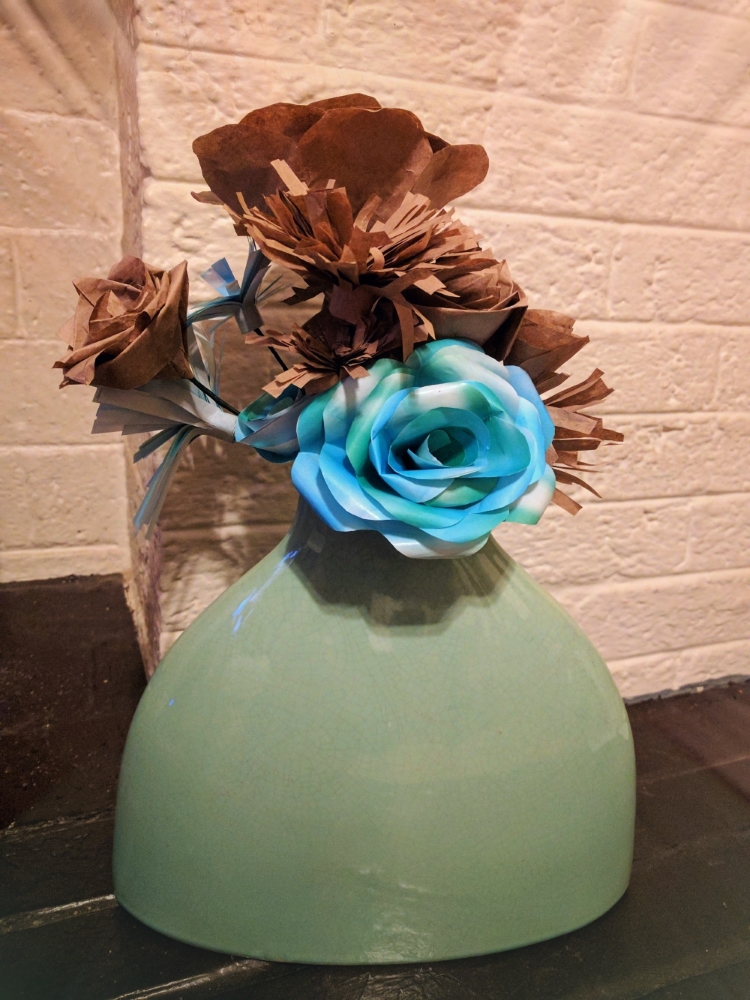 Another week into my craft room takeover-makeover I have finally picked out the majority of my decor including floating bookshelves, an area rug, and some incredible art pieces I've picked up at craft markets all over the country. One of my fabulous finds is a very unique vase I snagged for just $10 at an antique shop in Michigan this past weekend. I believe it's porcelin. It's a lovely light mint color and has a crackled appearance up close. It is a flat vase with a wide base and tapers up to a fairly narrow opening, giving it a whimsical feel. Just what I was looking for!
So while I'm waiting for delivery of the larger items for my room, I decided to make some flowers for my new vase. Yes real flowers are beautiful and they smell lovely. But I'm going to need a little less fuss in my room and won't want to have a large vessel of water anywhere near my hoards of paper!
Going with the color scheme I decided on a while back, I chose to make most of the flowers from brown craft paper and the rest from origami paper in blue-green colors. I also decided to do a mix of flower styles to mimick a proper bouquet. I made two kinds of roses; large Mister Lincoln roses and traditional English roses. I also made a few small ranunculus and some spider chrysanthemum of varying sizes.
For the English roses I used the same paper quilling techniques I used to make my rose earrings and paper quilled rose boutonnieres. Some day in the near future I will try to remember to do a tutorial on how to make roses. I also used paper quilling techniques to make the spider chrysanthemums and ranunculus. As is the case with paper quilling, both styles of flower involve long strips of paper being rolled up inch by inch to form flower shapes.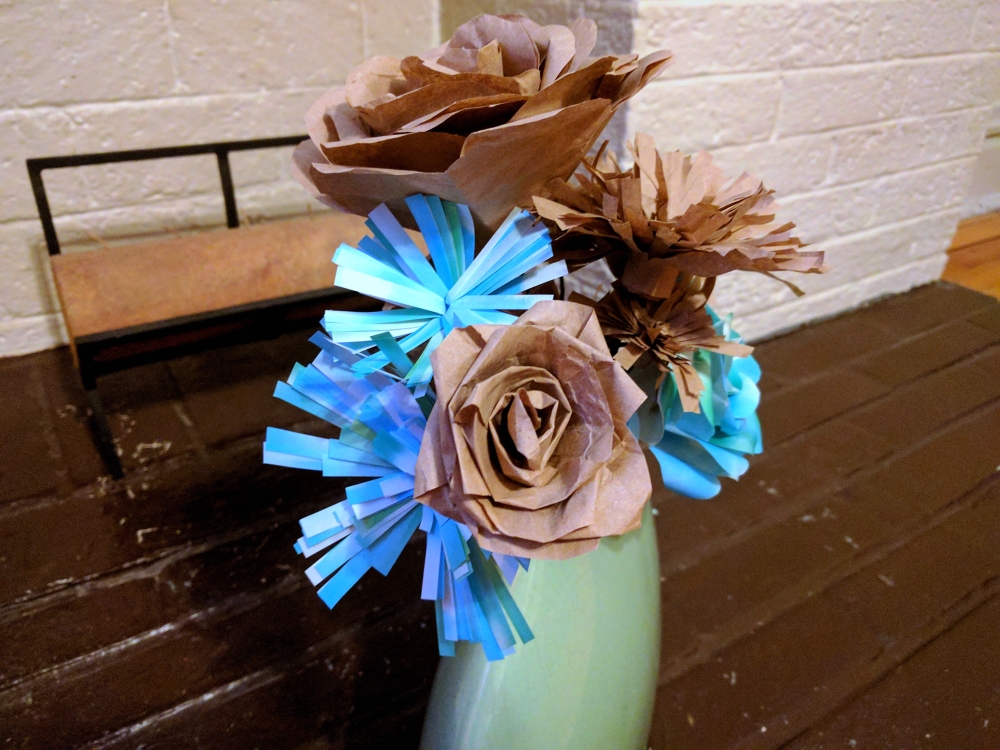 For the Mister Lincoln roses I found a great tutorial on Youtube which I followed step by step. Since these roses are larger in size they required significantly more paper than the other flowers. However, I was super impressed with the final result. Even my husband commented on how pretty they are! Now I'd say that's a ringing endorsement.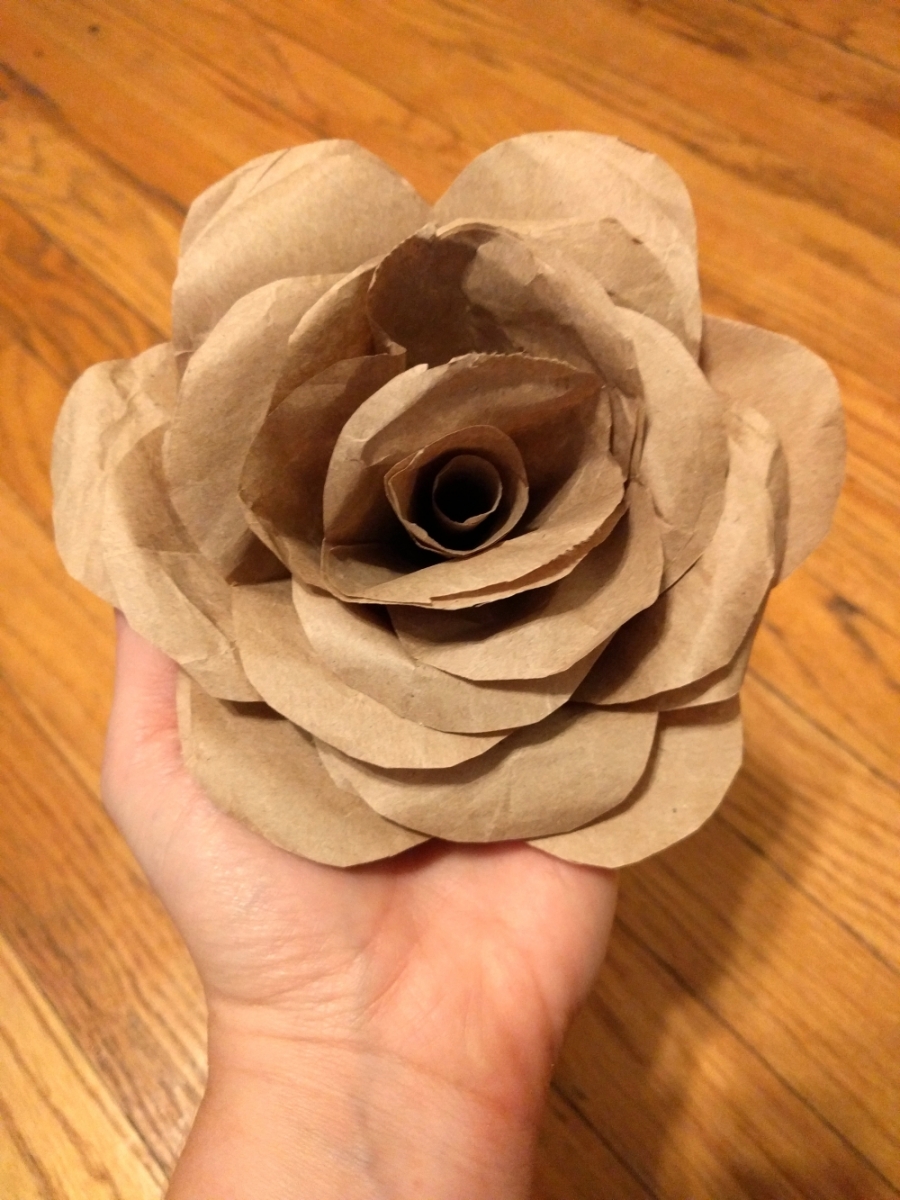 Once the flowers were complete I wrapped green wire with floral tape to make stems and fastened them with glue. Voila! A stunning bouquet that will never need changing (at least not until I do my next makeover ;).