Craft Show Tricks and Tips
♥ Marissa is on extended maternity leave. ♥
She looks forward to working with you to create beautiful things upon her return!
Please email SweetheartsandCrafts@gmail.com with any inquiries.
Please note we will not be taking holiday orders for 2020. Thank you for your understanding.
Image: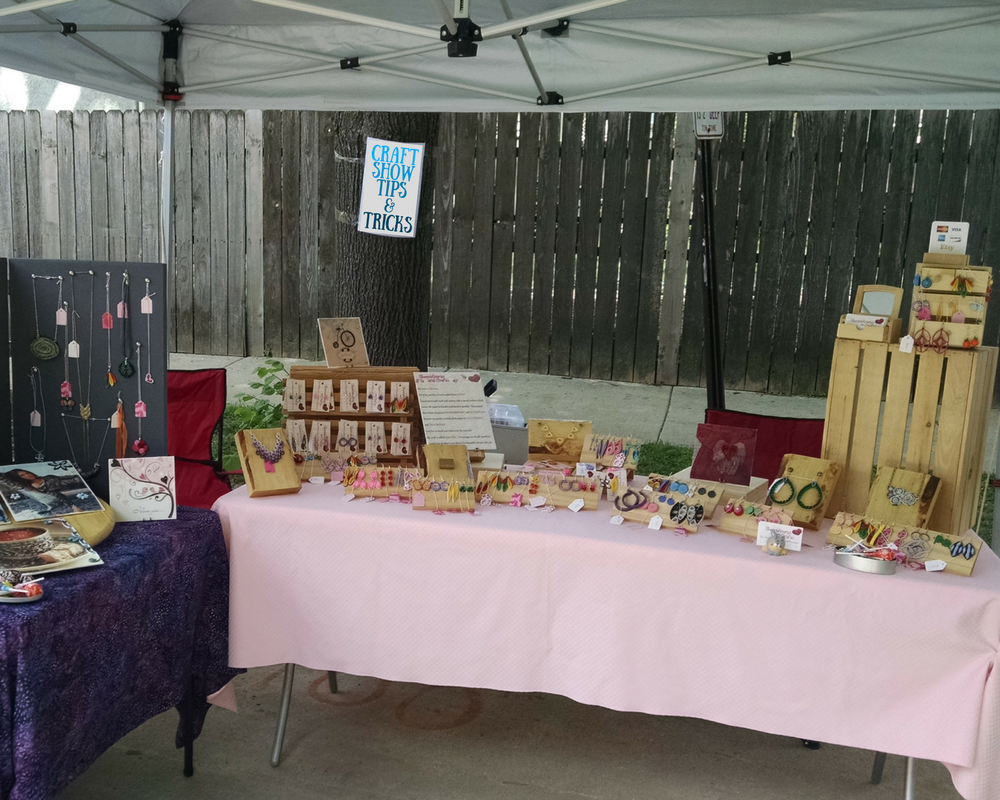 Craft show season is about to kick into high gear for me with the majority of my fairs taking place in August this year.
Please see my calendar for all the deets on where to find me this summer.
I thought it would be a great idea to share some of my tricks and tips for having a successful show. Some of these are really obvious but easy to overlook when you are frazzled or nervous leading up to a big fair. Feel free to add your most helpful tip in the comments section!
GET SLEEP the night before! These shows can make for a looooong day, especially if you are attending a two day show. You don't want to be tired or crabby.
Wear good shoes. I personally prefer to stand up as much as possible, as I feel it makes for a better presentation on my part when I speak to someone at eye level. Even if you do sit, however, good shoes are a must. You have to be comfy.
Take plenty of change especially ones and fives. People who pay cash often use $20 bills.
Get a credit card reader!!! This is one of the most important tips. If you have never done a show I think you will be surprised how many people do not carry cash anymore. You must have a card reader so you don't miss out on a potential sale. Going hand in hand with this is to have a little sign on your table notifying customers you accept credit cards.
Bring drinks and snacks. Most events have food and drink available but do you really want to spend your time and money elsewhere?
Don't try to make/finish any project the day before the event. (I am very guilty of this.) Spend the day making sure your items are packed in an orderly manner and that you aren't missing any essential supplies. Those couple extra items aren't worth the aggravation of possibly forgetting something.
Create a checklist of supplies for yourself and check off as you load your car.
Check out the event space in person beforehand if you have a ton of things to set up.
Go to a show as a shopper before signing up as a vendor if you can. My very favorite show as a seller is one I went to as a shopper for years before I began my business. I knew it was fabulous from the start.
Make sure you are aware of how much space you are allotted for set-up. You don't want to show up with a tent for a 6 foot space, nor do you want to show up with just a card table for a 10x10 space.
Stay off your phone unless you are processing a transaction!
Have a ton of business cards. Hand them out. Place them in several spots around your display.
Talk to people. When someone enters your booth say hello and give a smile.
Be friendly to the show organizers and share the event on social media like they will ask you to do. They may just give you a better booth space because you were courteous and listened to them. Once you are at the event you should introduce yourself. Following the event you can send an email letting them know you had a successful day.
Talk to other vendors. You want to make connections. These are your peers. I've found out about a lot of great shows and tricks just by talking to my neighbor.
Make friends with your neighbors right away. They will be the one you'll have to ask to "keep an eye out" if you need a bathroom break.
Piggybacking off of the above, try to talk a friend into helping. It's always easier to have help carrying product and especially setting up your tent. Then you already have someone to babysit while you're visiting the bathroom.
Be proud of your product and stand by your pricing (at least until you decide to thoughtfully reevaluate pricing LATER). Don't worry if you hear comments about something being too expensive. You know the time it took to create your pieces and you've priced them accordingly. If they complain about the cost they are not your target market anyways.
Prepare for the wind. If you live in a notoriously windy area and you are aware of this fact, make sure your display can handle the wind, otherwise you will have spend most of the day picking your display off the ground. I like to bring large spring clamps to hold down my tablecloth and I strategically place larger pieces at the ends to shield my lightweight jewelry.
Bring a floor length tablecloth for each table you will use. They make everything look better and allow you to hide your extra merch under the table without looking messy.
Don't get discouraged by people walking by and not stopping in. It's not a commentary on you or your work.
Practice setting up and time yourself doing it. It will likely take longer than you think and you don't want to be the vendor still setting up at the beginning of a show. Add extra time for unloading and moving your car. Then add extra time for the unexpected and people coming to talk to you when you are setting up.
Look presentable. You may consider wearing different clothes to set up in and a change of fresh clothes for the event. Pack a brush, makeup, deodorant so you look fresh for the event. I get sweaty setting up even in the dead of winter. Most people do.
Use wheel carts, wagons, or dollies to transport items from your car to your space.
Ignore how everyone else is doing. The fact that the lady selling crochet scarves sold 5 things and you sold only 2 makes no difference towards your success. If you get discouraged or frustrated it shows more than you think. Just stay positive.
Invest in or make quality display items the first time. My very first show I purchased lower end displays and felt a bit embarrassed once I was set up and saw what other, more seasoned artists had for their displays. Now I regularly get compliments on my booth.
Get weights for your tent legs. Most shows do not allow you to stake down your tent and require 20-40lbs per leg.
Get walls for your tent. This will help protect you from any number of weather issues.
Make sure you have enough product to restock on day two of a two day show.
Bring supplies for working demos. Not everyone can do this since some artists have large or complicated materials. However, I always bring extra quilling paper with me so I can work while I work! I will begin working on outstanding orders or just make something for fun. Frequently I get little girls who are so interested I do a mini class with them and teach them a few quilling skills.
Jewelry vendors should bring supplies for alterations. Occasionally a sale is dependent on a necklace being a certain length or a pair of earrings having clip on backs instead of hooks. I bring my jewelry pliers and extra findings with so I can make these adjustments.
Do not have expectations. Every show is totally different and you can never predict what you will sell or what the customers are looking for. At the end of the day it's more about getting your name out there and making connections than the money.
Try to relax and have fun!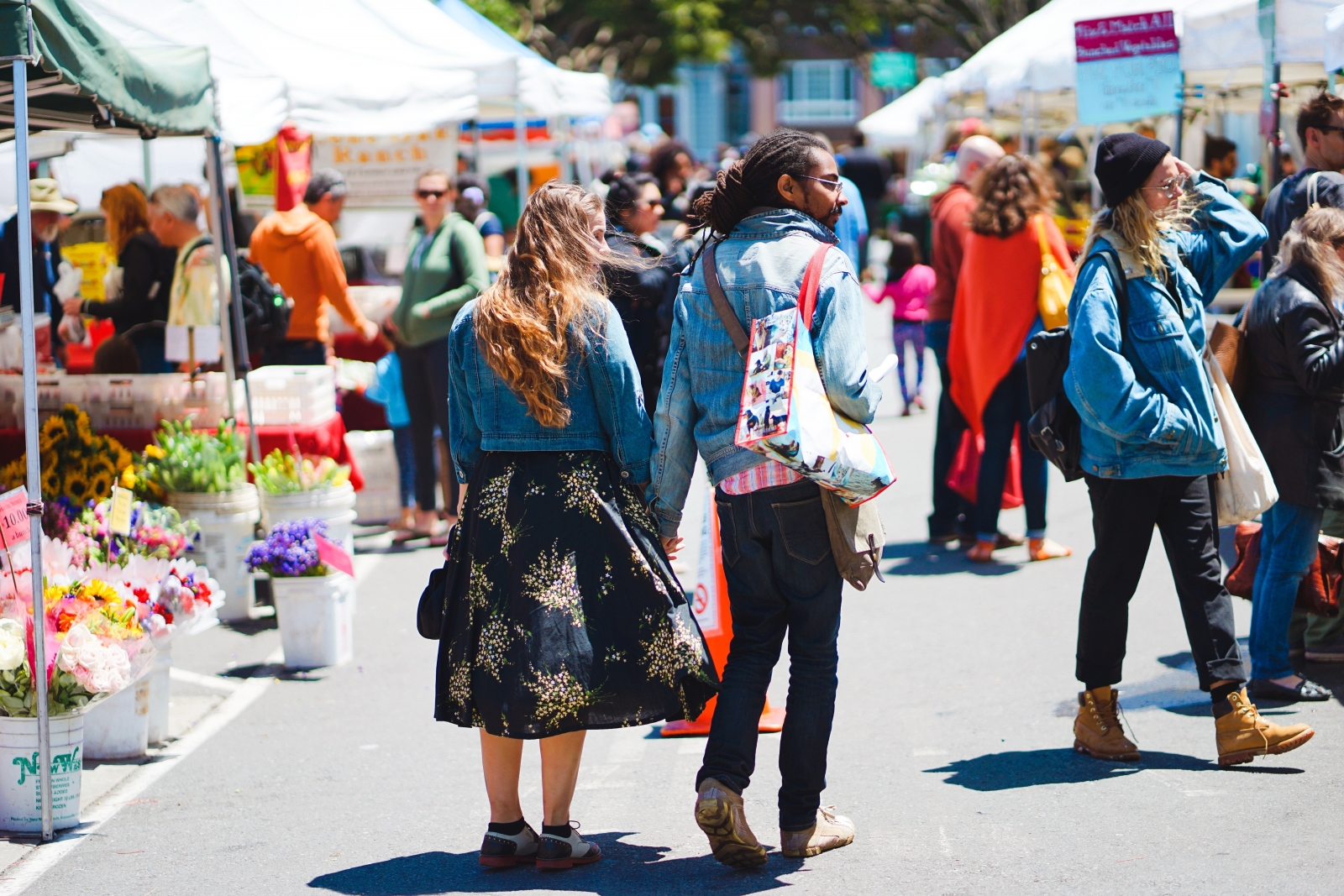 Image Credit: Andrew Robles
*Shoutout to the Facebook Group
Vendor Event Tips and Tricks
for adding ideas to my list of tips and trick
s.*