Work in Progress: Paper Quilled Sideways Crosses
♥ Marissa is on extended maternity leave. ♥
She looks forward to working with you to create beautiful things upon her return!
Please email SweetheartsandCrafts@gmail.com with any inquiries.
Please note we will not be taking holiday orders for 2020. Thank you for your understanding.
Image: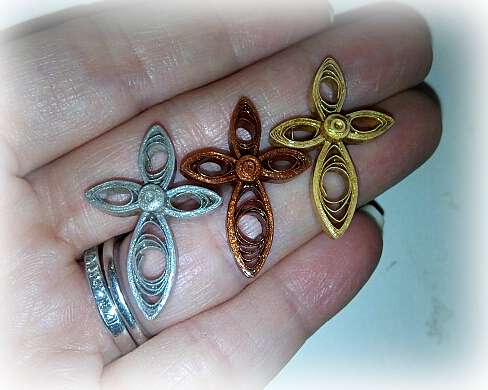 In addition to adding more paper quilling tutorials to SweetheartsandCrafts.com this year, one of my goals is to tell you more about different projects and new pieces I'm working on. This is the first of my "work in progress" entries. I hope you enjoy reading about my creative process!
My sideways cross necklace has quickly become one of my most popular pieces. Although I have created different styles of religious jewelry in the past including other crosses, a Star of David, and gold crescent moon, this piece has struck a chord. It is delicate and certainly follows the minimalist trend in jewelry.
So I've decided to expand this line to expand beyond traditonal silver to include copper and gold options. I'm particularly excited about the copper sideways cross, as I have a gorgeous rose gold plated chain with which I plan on pairing it.
What do you think of these new color choices?