What's Your Quilling Name
♥ Marissa is on extended maternity leave. ♥
She looks forward to working with you to create beautiful things upon her return!
Please email SweetheartsandCrafts@gmail.com with any inquiries.
Please note we will not be taking holiday orders for 2020. Thank you for your understanding.
Image: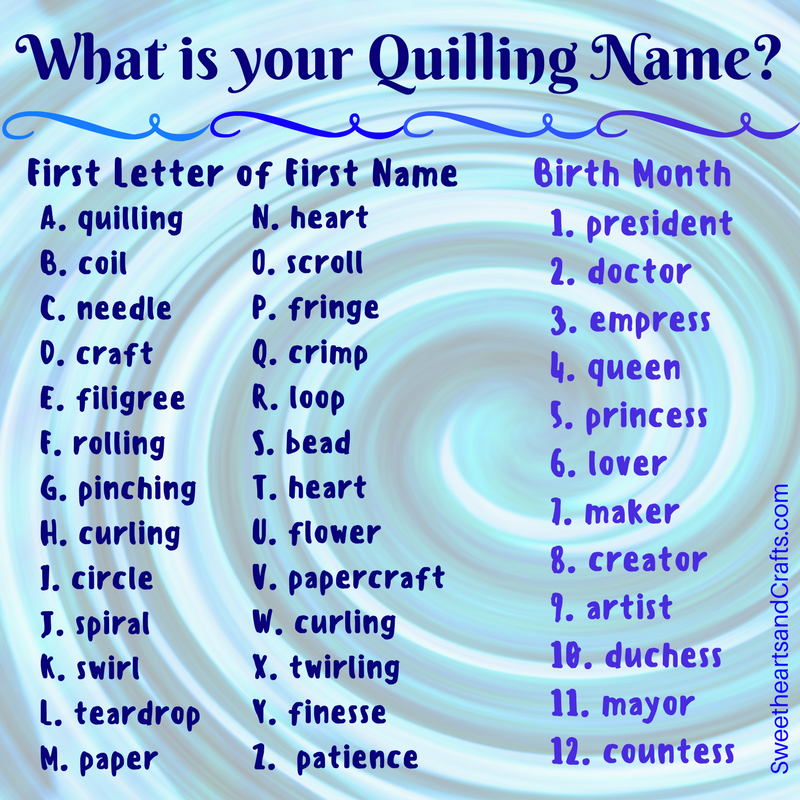 By now I'm sure you've seen "name generators" popping up all over the internet; what's your unicorn name, what's your Harry Potter name, what's your rap name...? I was feeling a little left out so I decided to make one for quilling! Whether you are an avid quiller, a beginner who just bought their first kit, or simply an admirer of paper quilling, you can discover your own quilling name using the name generator I created.
For the first name simply choose the number that corresponds with the month of your birthday. So for example, my birthday is in the fifth month of May so I would get "paper".
For the second name choose the first letter of your first name. My name is Marissa and the letter M corresponds with "princess".
So my quilling name is "Paper Princess"...how fitting!
I hope you have fun and let me know if you think of any quilling words or phrases I missed.