Pinterest Promotion with Group Boards
♥ Marissa is on extended maternity leave. ♥
She looks forward to working with you to create beautiful things upon her return!
Please email SweetheartsandCrafts@gmail.com with any inquiries.
Please note we will not be taking holiday orders for 2020. Thank you for your understanding.
Image: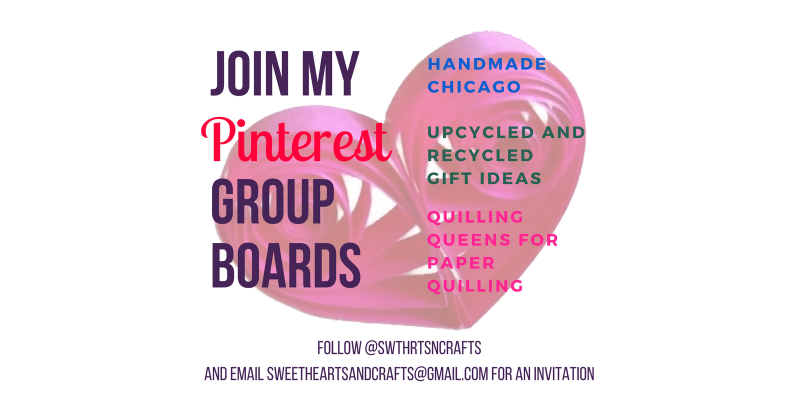 Social media promotion is essential for small businesses. It's no surprise that there are 133 MILLION Google results for "social media promotion". Unless you are very lucky or have amazing grassroots support, you simply can't succeed as a small business today without taking advantage of social media. It may come easy to you...it may boggle your mind. Perhaps you are one of the many people who has read a number of those 133 million articles.
Whatever category you fall under, you probably know about the major SM platforms and how important each of them are to the success of your small business. Using Google Analytics (another invaluable tool BTW), I know that Pinterest is one of my most successful social media accounts for driving traffic to my website. Consequently, I dedicate a reasonably large portion of time to maintaining my Pinterest account.
A bonus of Pinterest is that I actually enjoy using it! It was one of just a few social media platforms I used before I started Sweethearts and Crafts. It's great for all kinds of craft and DIY ideas, recipes, party planning, home decor, gardening...you can find just about any interest you have on Pinterest. Occasionally, however, you will come across a subject that could use a little extra help. I found there was somewhat of a void in several areas which are important to me and my business: Chicago handmade, paper quilling, and eco-friendly handmade. It's not that there weren't plenty of pins and pinners interested in these subjects. The problem was that no one had thought to amass all of these ideas in one place. Enter: The Group Board!
In order to boost interest in the topics that matter to me and to bring together artists with common aesthetics and goals, I started several Pinterest group boards.
A. Quilling Queens - Pin your own paper quilling art and jewelry or paper quilling projects from other artists you admire.
B. Handmade Chicago Group Board - Artists who live in, create in, sell in Chicago are welcome to post their pins to this board. Art, jewelry, geekery, paper crafts, etc all welcome as long as it's made by a you or another Chicago artist you admire.
C. Upcycled and Recycled Gift Ideas Group Board - This is my newest board and although it doesn't have a ton of collaborators yet, it has over 1200 followers. Upcycling is trending so pinners are encouraged to share their recycled or upcycled products that make great gift ideas.
To join any group board follow these steps:
1. Follow me on Pinterest (@SwtHrtsNCrafts)
2. Send me a message here or to SweetheartsandCrafts@gmail.com letting me know which boards you'd like to join. I usually respond to requests within one day.
Do you have any group boards you think I should join? Please leave the name of your board in the comments.
Happy Pinning!