Autumn Loves Leaves
♥ Marissa is on extended maternity leave. ♥
She looks forward to working with you to create beautiful things upon her return!
Please email SweetheartsandCrafts@gmail.com with any inquiries.
Please note we will not be taking holiday orders for 2020. Thank you for your understanding.
Image: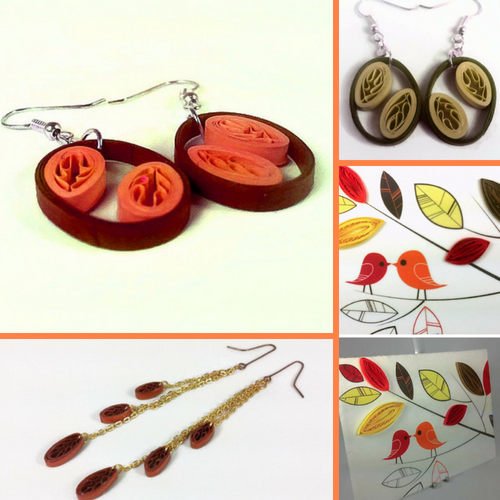 As the weather heats up to sweltering temperatures one last time for the year, it's hard not to anticipate autumn's cool breath creeping up on the horizon.
As we look forward to crisp fall air, pumpkin spiced treats, and bringing out our cool weather wardrobes (yay boots!), the most sure sign of autumn is in the leaves. Falling leaves, color changing leaves, raking leaves, jumping into piles of leaves, and yes, even wearing leaves are just a few autumn events to which we look forward.
If like us you fall under the category of those who'd rather wear their leaves than rake them, keep reading to see our fab fall leaf jewelry picks.
These beauties will fall down your neckline in gorgeous metallic copper or gold, mimicking the real colors of fall. The leaves are handmade from strips of quilling paper and are water resistant.
Feel free to request them in red, yellow, orange, or other bright seasonal hues, with silver chains, or in a more modest length if desired.
These oval filigree leaf earrings are crafted as a more traditional length dangle to celebrate the fall.
Each teeny curve has been handmade from paper in the official colors of the season. Get them in ultra violet, red pear, toasty brown, martini olive, twilight blue, classic seafoam green (not pictured), or funky neons (not pictured). As always, these festive favorites can be made in your custom colors.
Finally, jewelry not your thing? Get this piece to spruce up your space for fall.
Each leaf has been carefully handcrafted from paper using quilling techniques. The leaves are overlaid on a hand done image transfer from paper to canvas. Click through here for more info on this piece.
Have an idea for fall you don't see here?
Custom requests for art and jewelry are always welcome. Contact me for your handmade custom order today.